Healthwatch Rochdale to host 'An Audience with Carers Support and Services'
Healthwatch Rochdale are to host their third online information forum 'An Audience with Carers Support and Services' on Tues 22nd June 6.30pm – 7.45pm.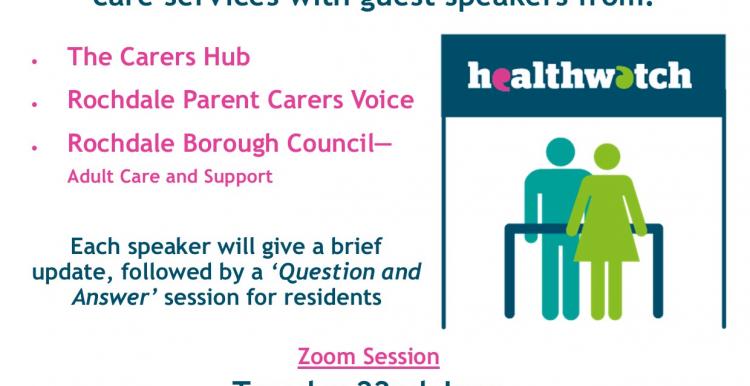 The session is open to all Rochdale residents to attend and will take place via Zoom. Guest speakers will include:
The Carers Hub
Rochdale Parent Carers Voice
Rochdale Borough Council - Adult Care and Support
The third online forum follows the success of Healthwatch Rochdale's previous two information sessions 'An Audience with Children and Young People's Mental Health Services' and 'An Audience with Adult Mental Health Services' both of which are available to view on our YouTube channel here 
The An Audience with forum is part of Healthwatch Rochdale's 2021/22 workplan and forms part of our statutory duty to provide information to the residents of Rochdale.
Our first two An Audience with information sessions have proven to be popular and we are hoping our third will be as successful. The forums are a great way to bring providers of services together with local residents so people can be informed of what services are available locally and ask any questions they may have direct to providers. The theme for June is Carers which has been chosen to reflect Carers Week in June
If you are interested in finding out more about Carers Support and Services in the Rochdale borough you can book onto the event by emailing info@healthwatchrochdale.org.uk and a Zoom link will be emailed to you.