Healthwatch Rochdale publishes their action plan and partnership pledges following 360 Stakeholder Engagement Workshop
Healthwatch Rochdale, has today, Friday 2nd January 2020, publish the findings from a recent Stakeholder workshop which has resulted in eight recommendations to help improve the service that is delivered.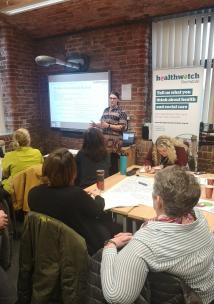 The workshop was attended by 22 professionals representing 15 different local organisations including Heywood, Middleton and Rochdale Clinical Commissioning Group, Rochdale Borough Council, Pennine Care, Rochdale Together Advocacy and Veterans in the Community.
The aim of the workshop was to learn how Healthwatch Rochdale are perceived by other organisations with a focus on
Awareness – To what extent are stakeholders aware of Healthwatch Rochdale
Favorability – Impressions of Healthwatch Rochdale
Understanding – Recognizing and understanding the role of Healthwatch Rochdale
Communications and engagement – How well do Healthwatch Rochdale communicate and engage
The findings from the workshop will create a benchmark from which Healthwatch Rochdale will be able to measure future performance based on the key priorities and strategic objective of the current strategy and business plan.
The engagement workshop began with round table discussions on the expectations and role of Healthwatch Rochdale, followed by a whole room discussion and an information update on the role of Healthwatch Rochdale, clarifying any wrong perceptions in the update.
Round table discussions continued with the results of these discussions highlighting a positive impression of Healthwatch Rochdale. The result of the engagement workshop has resulted in an action plan to further improve the service being delivered by Healthwatch Rochdale.
To help support Healthwatch Rochdale over the next twelve months all attendees were asked to complete a pledge form and a total of nineteen pledges were completed. The pledges will help Healthwatch Rochdale build stronger working relationships with other organisations and raise awareness of our role and the service we provide to residents of the Rochdale Borough.
The engagement workshop was a new way of engaging and gathering feedback from stakeholders and we were pleased to see so many organisations wanting to learn more about the role of Healthwatch Rochdale. The overall feedback was very positive but we did identify some areas of improvement and so we have created an action plan to be incorporated into next year's work plan
You can read the full report, including Healthwatch Rochdale's action plan and partner's pledges.