Medicine for Members Chemotherapy Talk
The Royal Oldham Hospital is inviting local residents and trust members to join them for a free talk to find out more about chemotherapy services.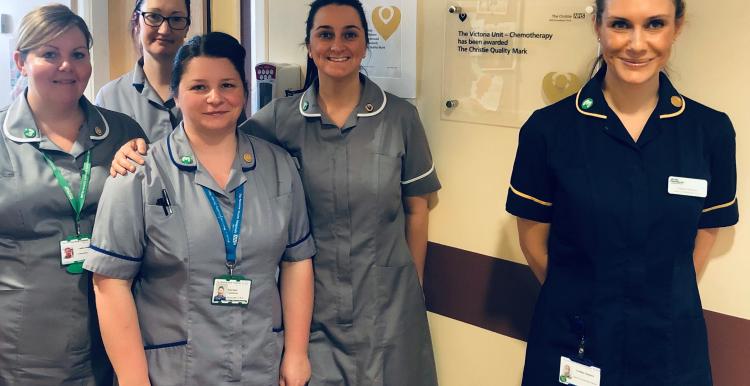 This free talk is one of a series of Medicine for Members events, which are intended to give local residents an insight into key elements of the hospital's daily work.
The chemotherapy talk will take place on Tuesday 2nd April, 2pm – 3pm in the Education Centre at The Royal Oldham Hospital. It will look at what chemotherapy is, why we give it to patients, what the side effects may be, scalp cooling and what patients can expect from the Pennine chemotherapy service generally.
The session will be led by Lindsey Dawson, Macmillan Lead Chemotherapy Nurse. Lindsey is based in the Victoria Unit at The Royal Oldham Hospital and is an expert on the subject of chemotherapy. Lindsey oversees the chemotherapy service for breast, colorectal and haematology cancers in the Victoria Unit and ward F11 at the Royal Oldham Hospital.
The haematology unit chemotherapy service which Lindsey oversees treats patients with chronic long term blood disorders and blood cancers in the integrated day case and 22 bedded inpatient unit. Most patients attending the department are receiving chemotherapy and can be in hospital for prolonged periods of time combined with numerous day case attendances.
Being diagnosed with cancer and being told that you should have a course of chemotherapy can be an emotional and frightening experience for many patients. Many patients are often worried about the side effects that the treatment might cause and usually have a number of questions that they want answering before they start on a course of treatment. The chemotherapy talk will hopefully try to answer some of those questions
To book your place, please contact Angela Greenwood, Membership and Public Engagement Manager on: 01706 517302 or by e-mail: membership@pat.nhs.uk.