Springhill Hospice Education Team have been nominated for national care award
The education team at Springhill Hospice have overcome stiff competition to make the final of the Skills for Care Accolades awards which rewards social care organisations who invest in the workforce so they can offer high quality services.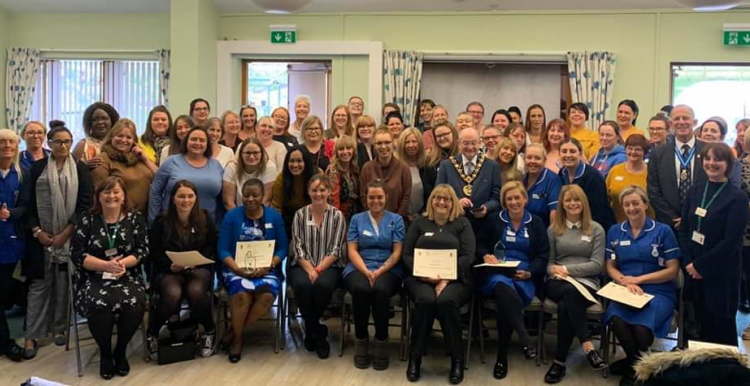 The Springhill team offer free of charge palliative and end of life care education for all health and social care staff in Heywood Middleton and Rochdale, and have developed close links with external organisation to work together and improve care. The team have been nominated in the most innovative endorsed learning provider category which was open to over 18,500 adult social care employers in England. The education team will find out if they have won the national award at the Accolades ceremony in London on Wednesday 22nd January 2020, which will be hosted by TV dance legend Anton du Beke.
All the finalists have demonstrated their expertise in developing skills and knowledge to meet the needs of the people they support and can demonstrate the way they developed strong leaders and managers in their services.
Everyone at Springhill Hospice is so proud we have made it to the final stage for this prestigious national award that recognises the time and effort we have invested in up skilling not only our own workforce, but also the workforce of our colleagues in the wider community. Our staff are our biggest asset, so we are proud to be able to develop them and increase knowledge of End of Life Care, both for our own staff, and staff in the local community. All the people we work with are also delighted for the team and are keeping their fingers crossed we can bring home this much coveted national prize.
This is the 16th year the Skills for Care Accolades have been staged celebrating the outstanding work done in our communities by around 1.49 million people who work in adult social care.
My congratulations to the team at Springhill Hospice as our Accolades awards are open to thousands of organisations who offer care and support across England so to even make the final is a huge achievement. "Competition in this category was fierce, but all the judges were impressed by the way Springhill Hospice offer learning and development opportunities for all disciplines, which means they can deliver high quality care that meet the individual needs of the people they work with.