Healthwatch Rochdale Service Update: Coronavirus (COVID 19) guidance document
Healthwatch Rochdale are today, Friday 13th March 2020, sharing a Coronavirus (COVID 19) guidance document which informs the steps we are taking, as a precaution, to protect the public, our volunteers, our staff and stakeholders.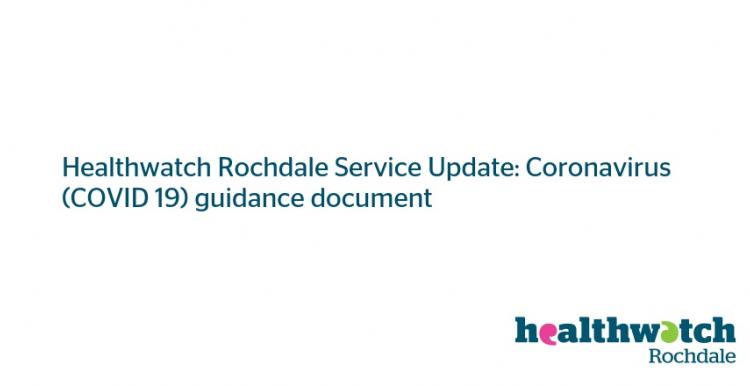 As a precaution, and following advice from Healthwatch England, we are currently reviewing our public engagement work planned for the next three weeks, particularly where this:
Involves service visits or events with people who are elderly and/or who have underlying health conditions.
Risks placing additional burdens on NHS or social care services
We have agreed that all of our events and visits will be rescheduled, to be reviewed by our management team following Sunday 29th March 2020. Healthwatch Rochdale will continue to attend local statutory meetings.
In light of the current situation Healthwatch has a key role when it comes to providing information for the public. We will be fully supporting the Government's public information campaign and prioritise this activity through our communication channels to raise awareness of how to prevent the spread of COVID-19 infection, what symptoms to look for, and what to do if someone becomes unwell.
What our role will be as a statutory organisation
We will provide up to date information and advice on the outbreak.
We will update our website with information the general public need to support them during the outbreak.
We will share information and advise on how people can start to 'Social Distancing' themselves.
We will support local providers and commissioners to pass information out to the public, specifically seldom heard groups of the borough.
It is possible that the situation could change rapidly, so we will continually regularly revisit the advice we are providing.