COVID-19: How has your health and care been affected?
We are all, as a community in the borough of Rochdale in a very difficult time at present.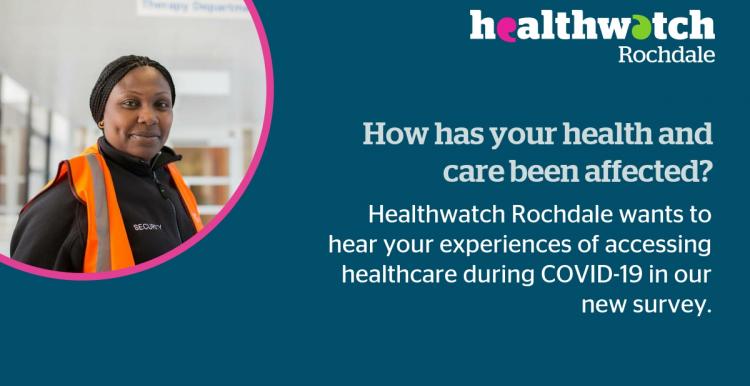 Due to the outbreak of COVID-19, we have all been asked to Stay at Home, Save Lives, and Protect the NHS, which has now subsequently been updated by the UK government to Stay Alert, Control the Virus, Save Lives.
As an independent health and social care champion, Healthwatch Rochdale wants to hear your experiences of accessing healthcare during COVID-19 in their new survey.
This feedback will be used by Rochdale Borough Council and the NHS to help identify issues and make sure everyone continues to receive safe and high-quality care.
Health and care services in the borough of Rochdale have had to change quickly to respond to COVID-19. While NHS and social care staff are doing everything they can to keep us well, there might be things that still need to be improved.
As Healthwatch, our role is to help make health and social care work better. During this challenging time, people's feedback has never been more important.
You can help health services stay safe by telling Healthwatch Rochdale how your care has been affected by coronavirus, what's working well and what could be improved.
For all of us that use local services it is an unusual time, where we have had to adapt to necessary changes quickly. It is crucial we do everything we can to enable staff to do their jobs safely and effectively, but it is equally important that we learn from this experience and that public opinion is listened to. Whether you have personally used services or look after someone else that does, this is an opportunity for you to have your say.
People in the borough of Rochdale can tell Healthwatch about their views by:
Please note that this survey is here to collect your experiences only. If you require medical help or support, you should contact NHS 111 with COVID-19 related symptoms or contact your GP with other health concerns (check your GP's website for the latest guidance about how to make appointments).
If you need support with social care services, you should contact Rochdale Adult Care on 0300 303 8886 or via their email adult.care@rochdale.gov.uk .
If you are self-isolating and need support collecting shopping, prescriptions, or would like a befriender to get in touch with you, you should call the Rochdale Borough Coronavirus Support Line on Call 01706 923685. Monday-Friday, 9am-5pm. The line is open Monday-Friday, 9am-5pm. For more information visit: http://rochdale.gov.uk/health-and-wellbeing/coronavirus/Pages/covid-19-help-for-vulnerable-adults.aspx