Healthwatch Rochdale publishes findings and recommendations after Enter and View visit at Highfield Manor Care Home
Healthwatch Rochdale has today published a report containing seven recommendations for improvement after carrying out an Enter and View visit at Highfield Manor Residential Care Home, 70 Manchester Road, Heywood, OL10 2AW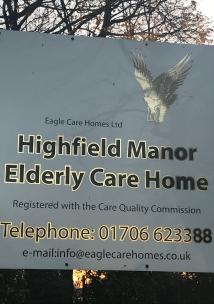 This was the second scheduled visit to the home after the first needed to be suspended on arrival due to lack of availability of the manager.
The visit to Highfield Manor is the seventh home to take part in Healthwatch Rochdale's Enter and View programme at local care homes. The programme is based on eight care quality indicators developed by Independent Age which are used to help identify good quality of care in residential and nursing homes. Areas of improvement were identified at Highfield Manor on six of the indicators with seven recommendations being made. Of those recommendations, four were for dementia friendly improvements to be made to the home environment.
Recommendations for improvement included:
To display the name of the occupying resident is displayed on the bedroom door
To have different coloured bedroom doors to make the home more dementia friendly
To provide a range of multi-sensory activities to stimulate smell, sight, vision, touch and hearing
Having an accessible picture board of food choices displayed in the dining area so that residents know what food options are available
Having a 'you said we did' board to demonstrate how resident and staff feedback can make a positive difference
"We noticed some residents at Highfield Manor displaying challenging behaviour, but we observed that they were treated with patience, care and dignity by the staff. We did identify some areas for improvement which mainly concerned making the environment of the home more dementia friendly to improve the experience for residents who live there. It was disappointing to have received no response from Highfield Manor regarding our recommendations despite numerous attempts and even delaying the publishing of the report to allow them more time to respond".
If you require this report in another format please telephone us on 01706 249 575.