Healthwatch Rochdale publishes findings and recommendations after Enter and View visit at Half Acre House Residential Home.
Healthwatch Rochdale has today published a report containing five recommendations for improvement after carrying out an Enter and View visit at Half Acre House residential home, Roch Valley Way, Rochdale, OL11 4DB.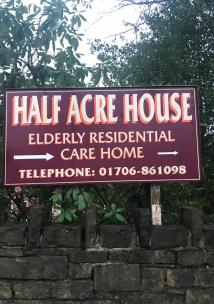 Half Acre House was the first home we have visited where the owner has been present and observed interacting with residents and taking an active role in their care. The recommendations we have made to the home are to help provide residents, their friends and families to have more of a say and an influence in the running of the home and to help care be more efficient and coordinated with the use of electronic care planning
The programme is based on eight care quality indicators developed by Independent Age which are used to help identify good quality of care in residential and nursing homes. Areas of improvement were identified at Half Acre House on four of the indicators with five recommendations being made.
Recommendations for improvement included:
To share good practice regarding individualised activities with other care homes
To consider switching from paper based to electronic care planning
Having a suggestions box so that people can leave feedback on the home and their ideas for improvement
Having a 'you said we did' board to demonstrate how resident and staff feedback can make a positive difference
If you require this report in an alternative format please telephone 01706 249575.