Healthwatch Rochdale publishes findings and recommendations after Enter and View visit at The Mews Care Home.
Healthwatch Rochdale, has today published a report containing three recommendations for improvement after carrying out an Enter and View visit at The Mews Care Home, Fenton Street, Rochdale, OL11 3TH.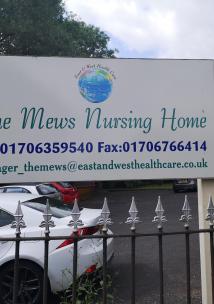 This was the first visit of Healthwatch Rochdale's Enter and View programme for 2019/20 and builds on the previous programme of Enter and View visits undertaken in 2018/19. Previously visits were based on eight care quality indicators developed by Independent Age but for the 2019/20 programme Healthwatch Rochdale has included a ninth indicator which focuses on the environment.
Healthwatch Rochdale carry out Enter and View Visits to observe the delivery of service and listen to the views of staff, services users and their families, and to help give them a say in how services are designed and run. Our recommendations are based on what we are told and observe on the day and we always encourage providers to go above and beyond their statutory requirements.
Following the visit three recommendations for improvement were made which included:
To continue researching electronic care planning systems and continue with the switch from paper to electronic care plans
For the home to share their skills and experience on providing individualised activities to allow other homes to learn from good practice
Having a 'you said we did' board to demonstrate how resident and staff feedback can make a positive difference
The Mews Care Home was the first visit of this year's programme and we saw that care was highly personalised to meet individual needs and requirements especially in the area of activities and personalised accommodation. It was really refreshing to hear staff tell us that they are told not to rush the care they provide to residents and that when they are with a resident they are with that resident. This ethos was reflected in the calm and relaxed atmosphere of the home with all residents appearing to be happy.
If you require a copy of this report in an alternative format please telephone 01706 249 575.