Healthwatch Rochdale publishes findings and recommendations after Enter and View visit at Four Seasons Residential Home
Healthwatch Rochdale has today published a report containing one recommendation for improvement after carrying out an Enter and View visit at Four Seasons Care home, 81 Halifax Road, Littleborough, OL15 0HL.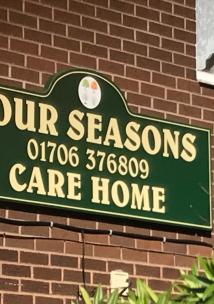 The programme is based on eight care quality indicators developed by Independent Age which are used to help identify good quality of care in residential and nursing homes. Areas of improvement in the home were identified on indicator four 'Offer a varied programme of activities' with one recommendation being made.
Enter and View Representatives felt that Four Seasons had a very homely atmosphere with the furniture and fittings in the home helping to create this. The only area it fell short was in the range of activities being offered to residents and this is an area we would like to see the home work on to improve the experience of residents who live at Four Seasons
If you require this report in an alternative format please telephone 01706 249 575