Royal Oldham diabetes team invites local residents to free diabetes talk - 5th September
The Royal Oldham Hospital is inviting local residents and trust members to join them for a free talk on 5th September to find out more about the diabetes service.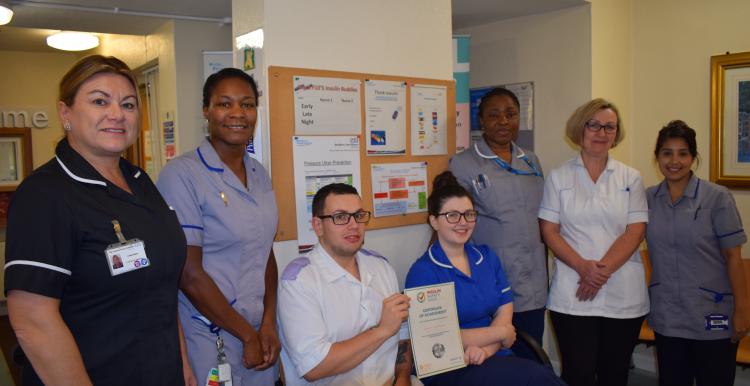 People who attend the talk will be given the opportunity to find out more about diabetes, as well as the services provided by the team at The Royal Oldham Hospital.
Diabetes is a lifelong condition that causes a person's blood sugar level to become too high. There are two types of diabetes: type 1 – where the body's immune system attacks and destroys the cells that produce insulin, type 2 - where the body doesn't produce enough insulin or the body's cells don't react to insulin.
The number of people living with diabetes in the UK has risen from 1.4 million in 1996 to 4 million in 2018, and experts estimate that this figure is set to rise to 5 million people by 2025. This represents 6% of the UK population or 1 in every 16 people living with diabetes.
The number of people diagnosed with diabetes in the North West in 2019 has increased from 435,280 to 444,592 since the previous year. Figures from a 2017/18 report show that 16,019 Oldham residents have been diagnosed with diabetes, representing 8.2% of the Oldham population, which is above the national average.
Lead Nurse for Diabetes, Linda Adams, said "One in six people in hospital will have diabetes. It's therefore important that patients receive high quality care and that their diabetes is managed appropriately when they are admitted. The Oldham Diabetes Specialist Nursing team are keen to raise awareness among patients, carers and staff members about the importance of managing diabetes while in hospital, so that patients receive safe and effective care. New initiatives have been developed in our clinical areas, which has improved the knowledge of staff, enhanced patient care and increased patient satisfaction. We will discuss some of these initiatives during the talk."
The free talk is one of a series of events throughout the year across the Northern Care Alliance Group, which The Royal Oldham Hospital belongs to, that are intended to give local residents an insight into key elements of the hospital's daily work.
The talk from the Diabetes service team will take place on Thursday 5th September, 11am – 12noon in Room F17, First Floor, Education Centre. Linda Adams will host the talk alongside Ascia Bibi, who is a Diabetes Specialist Nurse.
To book your place, please contact the Northern Care Alliance NHS Group membership team on 01706 517302 or e-mail membership@pat.nhs.uk.